Counselling and Psychotherapy
Many people are unsure if there is a difference between counselling and psychotherapy and there are differing views on this issue. The terms are often used interchangeably but distinctions are also made between the two. Counselling might describe work done on a practical level that is focused on assisting with particular life situations. Psychotherapy might refer to work done at a deeper level, which attempts to explore all aspects of the human experience. My training in integrative psychotherapy means that I can fulfill both of these roles. For a description of humanistic and integrative psychotherapy see http://iahip.org/about-humanistic-and-integrative-psychotherapy.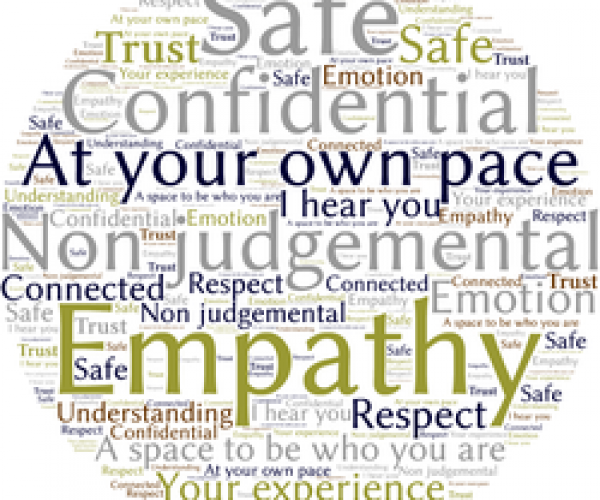 Individual Therapy
Sessions last from fifty minutes to one hour. Typically I meet with clients once a week but it may be possible to make alternative arrangements if you wish, depending on my own work schedule at the time. The first session is an introductory one which is a chance for us to meet and to explore what brings you to counselling. In the first session we also discuss what you would like to achieve from therapy and we work toward making this into a realistic goal. I regularly work with clients who present with the following issues and more:
Anxiety, stress and panic attacks
Depression
Addiction
Struggles with anger
Relationship difficulties
Social anxiety
Assertiveness
Trauma
Loneliness and isolation
Bereavement and loss
Eating Disorders
Work-related issues
Finding your passion in life
Feeling suicidal
Sexual issues and issues of sexual identity
Feeling stuck in life and creative process
Group Therapy
I have worked as co-facilitator of an experiential psychotherapy group for students of the Music Therapy masters at the University of Limerick. Group therapy is a supportive space in which participants have the opportunity to speak about what is on their mind, to listen to others, to give and receive feedback. Trust is built through an atmosphere of empathy and respect. At times the 'here-and-now' dynamics of the group will offer a natural means of working with interpersonal issues and patterns of living. Through growing awareness of these patterns opportunities for change emerge.
Benefits of group therapy include the following and more…
Self-development
Development of relational skills
Enhanced assertiveness and confidence
A more rounded view of yourself and others
Through understanding the universality of our problems, we grow in acceptance of self and others
Overcoming anxiety, depression or other psychological difficulties
Expanding your horizons beyond particular issues you have been working on, e.g. addiction, abuse or bereavement.
The consistent support of the group has many benefits.
Talks and Workshops
I provide talks and workshops on a variety of topics which are relevant to psychotherapy and everyday living, which can cater for the needs of various types of groups.